ESTIMATED BUDGET SAMPLE DRAFT—-SUMMARY
STANDARD WEDDING :300 PAX
VENUE                                            Ksh 40,000
CAKE                                              Ksh 35,000
DECOR                                            Ksh 65,000
SET-UP                                            Ksh 68,000
CATERING                                     Ksh 114,000
P.A                                                    Ksh 15,000
BOUNCING CASTLE                    Ksh 8,000
GRAND TOTAL                         Ksh 345,000
NB:    Above package is inclusive of venue.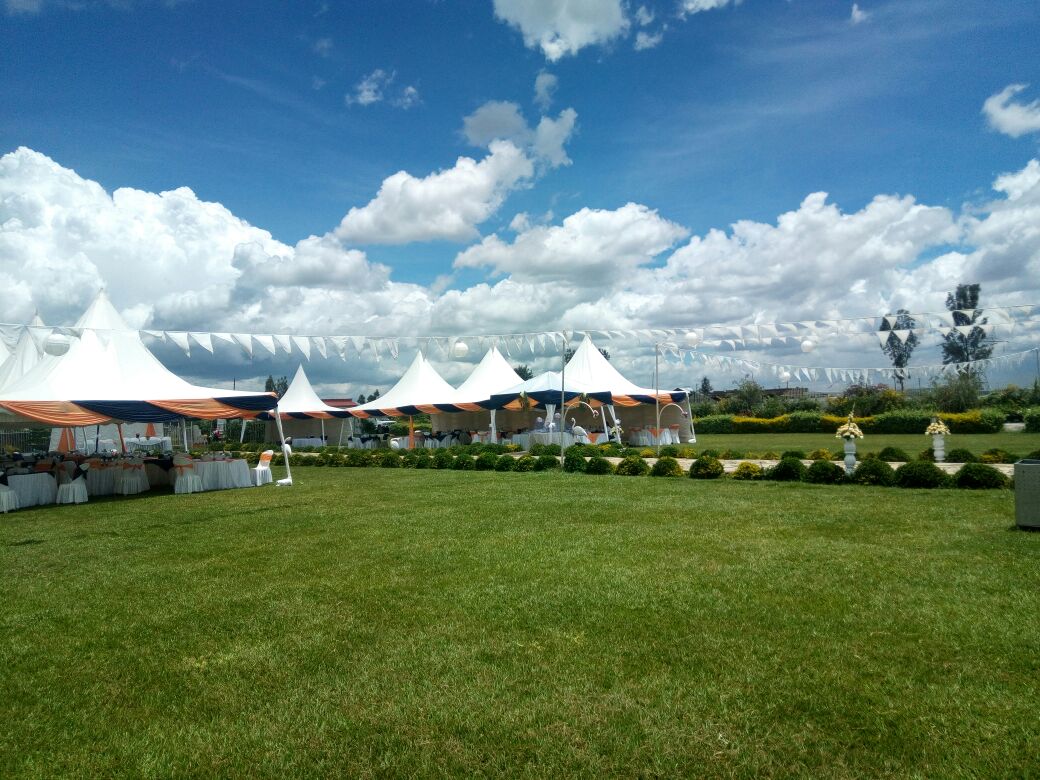 VENUE
SAMDOVE'S EASTERN BY-PASS GARDEN. One-stop garden wedding inclusive of church set-up; extra parking, washrooms,water,electricity,back-up generator and general security.
Above package inclusive of toiletries i.e. Toilet papers, Hand wash & Air fresheners.
NB:Elaborate security like armed policemen is at extra cost.
---
CAKE
7 tiered fruit cake /chocolate cake / velvet cake plus 100 pre-packs (Inclusive transport to venue within Nairobi City set up with Samdove's complete bridal accessories)
---
DECORATION PACKAGE
RESTAURANT STYLE (300 PAX )
CHURCH
10 walkway arrangements of assorted flowers – wedding colour scheme to accommodate bridal isle on white mat (either on pews or stands).
Roman pillars (two) with floral swag and head bouquet.
2 Fresh flower stands for church front.
Centre piece and skirting for ceremony table.
Ribbons for church sides.
RECEPTION VENUE
Two hanging central balls for reception.
Colour scheme overlays
Centre piece for the high table.
Draperies/Scallops for tents.
Floral tent hangings.
Bridal walkway with fresh flowers and walkway stands.
Skirting and dressing for all tables (Restaurant Style).
Detailed floral arrangements
Seat covers for all seats
Tie –back for all seats.
Backdrapes for bridal and guest tents
Petals for bridal walkway
Floral centre piece for guest tables.
BRIDAL PARTY
Bridal bouquet (Bridal car and bride)
Best lady bouquet
2 baskets for flower girls
Coat lapels for men (Groom's escort)
o Bride
o Groom
o Best lady
o Flower girl (Total No.)
o Page boy
o Maids (Bride's escort) (Total no.)
o Men (Groom's escort) (Total no.)